First Day Cover Collecting Basics
There are many ways to collect First Day Covers. This guide will discuss several major options, available resources, general pricing advice and more.
How you collect is your choice. Whatever your choice, you will be able to find a wide array of material on Online Stores, eBay and at your local stamp dealer with which to build your collection.
Once you have made a choice we suggest you get the 2009 U.S. Scott First Day Cover Catalogue & Checklist which you can find at your local library. It provides updated values for more than 10,000 cacheted and uncacheted U.S. First Day Covers. Listings are arranged by Scott Catalogue number and includes brief description featuring denomination and subject.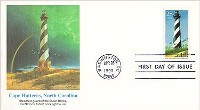 So what is a First Day Cover?
The three basic elements of a first day cover are the envelope, the stamp and the postmark. The postmark is the critical element as it verifies the date on which the stamp in question was cancelled and ties it to the cover. If the date of the cancel is on the first day a particular stamp design has been issued by the post office, the evelope it is on is a First Day cover.
Generally, the US Post Office issues a stamp in only one city the day before a new issue is put on sale in post offices around the nation. The issuance of a new stamp is frequently a cause of celebration, and as such the post office often holds special ceremonies in the First Day city. A special Ceremony Program has been used at most of these events since WWII. These are also collectible.
Most people focus on first day covers themselves. Since 1923 first day covers have been decorated with a special cachet (pronounced "ka-shay") printed, stamped, pasted or drawn on the envelope which usually relates in some way to the subject depicted on the stamp. These designs vary from the crudely drawn to virtual works of art in their own right. First day covers can be broadly grouped into two primary groups: Cacheted and Un-Cacheted. A number of individuals and companies have developed a series of cachets over the years which they sold to the general collecting public. Some first day cover collectors specialize in collecting one or more cachet maker, trying to accumulate as many different creations of their favorite over time.
Don't Forget Postal Cards U.S. Postal Cards are an often forgotten aspect of first day cover collecting. As a result, they offer the collector an opportunity to build a significant collection at a relatively low cost. Unfortunately most dealers do not carry these, but we are in the process of adding them to our site.
Cachet Makers Among the more popular cachet makers are the following:
Artcraft are perhaps the most numerous cachet available. Started in 1939, Artcraft used plain black ink engraved designs. Very clean and well executed designs were well recieved by stamp collectors. After all stamp collectors have an advanced level of appreciation for engraved art, like the stamps they collected. Because they were produced and collected heavily, they are among the most common first day cachet on the aftermarket. At the same time, that popularity has resulted in many people trying to collect them all. The early issues from 1939 are more difficult to come by. There are a number of variations available to add to the enjoyment. With the exception of early issues, you should probably insist on unaddressed material for this cachet maker.
Artmaster celebrated 50 years of First Days in 1996 — our first cachet was issued on May 9, 1946. Founded by Bob and Mary Schmidt "in a filebox on the kitchen table," as the story goes, the business is still owned by family. Uncle Bob and Aunt Mary were collectors themselves, and always did their best to please their customers with personal service. We try to do the very same today. Artmaster envelopes are printed by offset in one or two colors. On the reverse is a short biography or description of the stamp subject. Early Artmaster covers are single color engravings.
House of Farnam is the very oldest continuously produced cachet, founded by Dusty Farnam and his wife, Vera, in Cleveland, Ohio on May 9, 1936. The business was sold to John Halliday of Whittier, California in the late 1970s; then Artmaster assume production of Farnam covers in 1988. House of Farnam cachets are multi-color engravings and have a rich, distinctive appearance and texture. Early Farnam covers are single color.
Cover Craft Cachets is a line of covers founded in New Jersey by Ben Schwartz in 1964. It has been a limited edition version of Farnam since 1987; the line has been produced by Artmaster since 1988. CCCachets are made from the same engraving plates as Farnam covers; but feature gray rather than white stock envelopes. Each comes with a stuffer card detailing the number produced for that issue as well as a short description or biography of the stamp subject.
Fleetwood has made the finest First Day Covers in the business since 1929 — for more than 75 years. Fleetwood First Day Covers are painstakingly crafted using beautiful designs created exclusively for Fleetwood collectors. Every Cover bears the coveted Fleetwood watermark and uses fine linen-finish paper made to our exacting specifications. Stamps are masterpieces in miniature and are carefully affixed. Add to this the authoritative narratives... the full-bodied feel and enduring quality of the covers themselves...the official postmarks...and you have the key reasons why Fleetwood-brand First Day Covers are so popular among collectors.
Colorano Silk are this country's leading manufacturer of full-color "silk" cachets for first day and special event covers. Brilliant full-color art, dazzling gold borders, and the unique look that only a "silk" cachet can offer, have made COLORANO the choice of knowledgeable collectors for more than 25 years. Browse our web site and you'll soon see why COLORANO covers are considered by many to be the finest available in the market today.